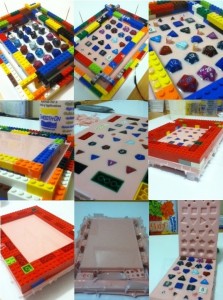 First and foremost, in the month of December I went to the crowdfunding website Kickstarter.com and launched a project entitled, "Gaming Dice in Chocolate and Sugar". I asked for a modest $950 to fund the project, thinking it would just be another small part of the bigger income picture of my life. Well, to my surprise, the project went viral within the gaming community, and in the end it was funded over 1700%, raising over $16,000 (before fees).
Wow.
So, gears shifted, new plans were made, advice was sought out, and Dice Candies was born. My apartment is currently a workstation and storage facility for Lego blocks, mold material, vacuum chamber and pump, and a collection of pots and thermometers. Needless to say, I'm doing a decent job of maintaining a normal living environment, save the loss of a kitchen table. Even with all of the problems and all of the work preparing to make 1800+ sets of dice (11,000 individual dice), it's a good problem to have. Pictured to the right is an image of the process of building a single mold (this was version #6). It takes 4 days, a strong wrist, and some sore fingertips. However, it's moving forward, which is always a critical part of the venture.
It's an adventure to say the least, but I did get to add a new title to my business cards. Mario Lurig — Author. Web Developer. Chocolatier.