Pokémon Go for Business: A Guide to Capturing New Customers (August 2016 e-book)
https://www.amazon.com/Pok%C3%A9mon-Go-Business-Capturing-Customers-ebook/dp/B01JIGLPLY
Pokémon Go for Business is a straightforward guide that requires no previous knowledge of the game, nor does it waste your time with unnecessary descriptions of every nuance of playing the game. Every marketing idea is justified, many with real-world examples and images are used liberally to ensure 100% comprehension for the enterprise or small business customer.
Unlocking Kickstarter Secrets: Crowdfunding Tips and Tricks (July 2012 e-book)
http://mariolurig.com/kickstarter/
Learn the ins and outs of running a successful Kickstarter campaign through the combined knowledge about the platform, the community, behavioral economics, price strategies, and good old fashioned marketing. Every project can be successful if you know what the Kickstarter audience is looking for from your project page.
Short Stories While Brushing Your Teeth (Dec 2011 e-book)
A free download compilation of 33 short stories, all 2-3 minutes in length. Also available on Kindle for $0.99.
My Zombie Body (Oct/Nov 2011 e-book/paperback)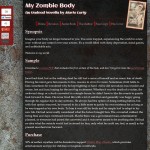 http://mariolurig.com/myzombiebody/
A first-person story from the zombie's perspective. What is life like as a zombie? Do you feel? Do you have regrets? Can you control anything? Enjoy this undead novella for yourself or the zombie lover in your life.
50% of author royalties will be donated to Child's Play Charity.
50 Conversation Starters for the Modern Age (2010 e-book)
http://mariolurig.com/50conversationstarters/
What is your favorite color is NOT a good conversation starter. This e-book provides fifty real-world tested and panel approved conversation starters that will get the conversation flowing quickly with one of the carefully crafted questions.
Whether you are flirting, networking at a corporate event, or making a splash at your next dinner party, with a few of the questions found within this book you will be the life of the party! These questions were designed and tested for the 21st century, to remain timely and interesting with any audience.
PHP Reference: Beginning to Intermediate PHP5 (2008 print and e-book)
http://www.phpreferencebook.com/
A collection of over 250 PHP functions with clear explanations in language anyone can understand, followed with as many examples as it takes to understand what the function does and how it works. One of the best PHP books to keep around as a PHP reference.
This PHP reference includes numerous additional tips, the basics of PHP, MySQL query examples, regular expressions syntax, and two indexes to help you find information faster: a common language index and a function index.
When the internet is not around or you want a simpler explanation along with all the technical details, this PHP book has all that and more.