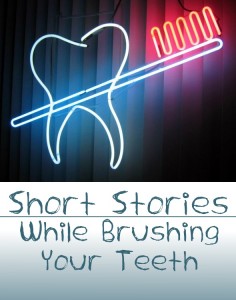 Hot off the heels of my 30 day short-story-a-day challenge, I've compiled all of them into a book called, "Short Stories While Brushing Your Teeth". You can download the ePub file completely for free right here:
I'm also releasing it at as a Kindle Lending Library exclusive for a few months, so you can get it for your Kindle through Amazon (free for Prime members, otherwise $0.99).
As a reminder, every other e-reader, tablet, phone, or e-book reader software is designed to work with ePub formatted books, so grab the download from the link above as soon as possible!