Slowpreneur <noun>:

A person who organizes and operates a new business or businesses with a patient approach to profits and growth while taking a measured financial risk.
A person who begins a new business or businesses as a side project until it becomes established, thus before operating the business in a full time capacity.
I stumbled upon this word by accident. I was sitting on the plane from Charlotte, NC to Orlando, FL and found myself sitting next to a psychologist, Tracy, reading some startup book on her tablet. We had been talking for the first third of the flight, but were currently on a break to do some reading. She nudges me and points to a word in the book: solopreneur. She says, "Ha, slowpreneur, that's kind of like you!" I smile, read the word on the digital page, and reply kindly, "That says solopreneur." Her embarrassment was palpable, so I quickly interjected, "But I do like the idea of a slowpreneur! I'm writing it down."
I checked Google when we landed and, as of writing this article, when you search for slowpreneur Google suggests (and displays) the results for solopreneur. If you force it to use slowpreneur, there are a total of 3 results!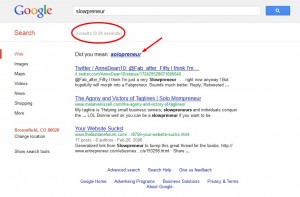 Mind. Blown.
Is this really a phrase I could coin? Alright, I'm doing it (I've already bought the domain)! In this startup world of big money, explosive growth, the quick buck, and the desire to make a million dollars in a year (165,000,000 results), I want to do something different.
Slowpreneur Creed

I want to be patient. I want to grow within my means. I don't want to incur debt. I will hold back the charging bull. I will continue to live my life. I will learn every day. I will let go of the reins when it's ready. I will not be greedy. I will succeed.
So here's to the slowpreneurs [raises glass in the air], who adventure into business with a slower pace, a balanced life, and the patience to see it through. Cheers.