It's amazing the lengths I go for theatre… no, scratch that, OpenStage theatre. If this was a Mastercard commercial…
Ticket: $14
Parking: $1
Gas: $5
Seeing an OpenStage performance: Priceless
Friday afternoon I decided to do something better with my Friday night and reserved tickets to see "Anton in Show Business" at 8pm on October 9th, 2009. I grabbed my fedora and my trench coat, and off I went after work, leaving Broomfield and grabbing some cash before the drive. The way up greeted me with snow flurries, not yet sticking to the road. Winter, in early October. sigh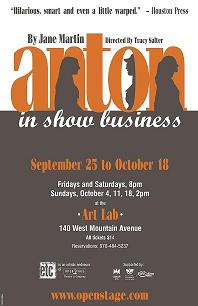 It was part of OpenStage's etc project which is held elsewhere in Ft. Collins. For this show, it was held at an empty storefront in old town Ft. Collins, previously a law firm. The location was actually part of Art Lab, a great community project which turns these spaces into art galleries. OpenStage had managed to setup chairs and a small stage in this small space which gave it a fantastic, intimate feeling. The crowd was typical for a theatre performance: Majority older than myself (30), some with their older children. I went solo this time, though I've brought numerous people to performances with me in hopes of luring them into the addiction I seem to be indulging regularly. Turns out the entire performance was to include only female actors, regardless of the gender of the character. This was a pleasant surprise when I arrived and read the playbill, and luckily I didn't feel creepy going solo, as a single guy, to a performance of an all female cast.
Speaking on that point briefly, I sometimes let my eyes wander across the stage area (I was seated right up front in an effort to encourage others to sit in the ignored first row) and found another gentleman who came alone and gave me a few minor moments of distraction, as I noticed his eyes wander from the actors faces from time to time (he had flowers at the end, so I suppose he was a friend/boyfriend of someone). Of course, this made me feel less guilty myself of the behaviour on occasion, which was understandable considering the beautiful cast and attractive character traits (no, not just Holly the sexy one). But I digress…
During the opening section, I was greeted 2 feet away with a bit of the "Rent" soundtrack as part of a series of outbursts, and I thought to myself, "Oh this is going to be a great night." The play was incredibly funny, with great comic timing put forth by the actors. Sydney Parks playing male roles proved incredibly entertaining, as her small facial gestures used to accent her fake facial hair and portray character emotions were subtle things too easily missed by those not paying attention; a great loss if missed.
The entire cast really embodied their characters fully, from the self-centered sexy tv star to the tobacco company underwriter and everywhere in-between, I found all the performances believable and entertaining. Nicole Gawronski's portrayal of Ben, a male actor in the play-within-a-play, kept me doubting whether it was the same actor. Phenomenal.
Some memorable lines were delivered that really made me laugh or smile:
"Fuck you with my art. You cry out."
"…sexy, Russian roulette. You're still alive."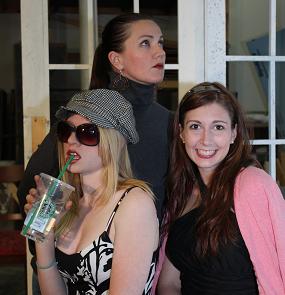 It's amazing what the actors brought to the performance, with sometimes rowdy passers-by only 40 feet away, passing by the front windows. It never once affected the performance, and typically there was so much engagement on the stage that you wouldn't pull your attention away for even a moment, regardless of the noises outside. This was my first etc performance, and it brought me back to the moment over a decade ago where I was reminded how much I love theatre, by a performance setup in much the same fashion. This is definitely a great performance to bring friends to, in hopes of sparking their own interest.
The play wasn't without its foibles, and there were some slips, which happens. The true measure of this is the ability of the actors to move through it, or compensate for the slip, which was always done fantastically. If it sounds like I'm gushing it's because I really really really enjoyed my time. Was it worth it? Absolutely.
When the play completed, and curtain call was done, Christine Sharpe immediately took the opportunity to greet, thank, and shake hands with those along the first row. This was a fantastic gesture and really wrapped up the evening well. The whole cast took the opportunity to greet the audience, which is one of the reasons I always enjoy OpenStage performances.
On the way home, the weather was notably worse, with at least 4 cars in accidents and 8 cars which had separated themselves from the designated path we call I-25, half of them facing the wrong way. Needless to say, it was a bit scary in my little 2-door Honda Insight that does horribly on snowy/icy conditions, but at 45 mph, I made it back safe. Still worth it? Absolutely (though if I spun off the road, I can't say for sure if that answer would change).
So far this season I've enjoyed "SceneWorks" (this should happen every year!): a collection of scenes from different plays grouped together in two acts, and "Anton in Show Business". Next up for me will likely be "A Christmas Carol", and I can't wait. It's funny, I work in Boulder but live in Broomfield, close enough to Denver to be able to enjoy some richer arts and entertainment. In a twist of fate, I've found my creative home 55 minutes north in Ft. Collins, and the drive is always worth it. Thanks OpenStage founders, cast, staff, and sponsors for reintroducing me to great theatre.