Facebook has offered an easy way to add individual events to your calendar, however it's less obvious how to automatically make this happen. Luckily, it's relatively simple using Facebook's own help pages as a starting point.
Copying the URL from Facebook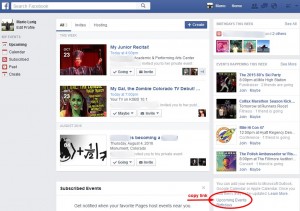 Login to the desktop version of Facebook and head to the Upcoming Events page. In the bottom-right (current location as of October 24, 2015) of the page, find the link labeled Upcoming Events, below the Events Happening This Week box. Right-click on this link and select Copy Link Location/Address.
Add to Google Calendar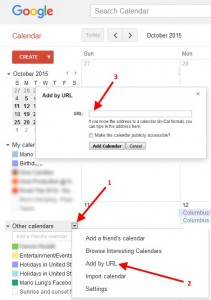 Open up Google Calendar and look on the bottom left-side for the Other Calendars section. Click on the down caret icon and select Add by URL from the options listed. This brings up an overlay where you will want to Paste in the link you copied from Facebook just moments ago.
IMPORTANT: Don't click Add Calendar just yet!
We need to alter the link you get from Facebook ever so slightly. This is an example of what you just pasted into the box:
webcal://www.facebook.com/ical/u.php?uid=12345&key=ABC123
You need to remove webcal and replace it with http:
http://www.facebook.com/ical/u.php?uid=12345&key=ABC123
Now you're ready to click Add Calendar!
Final Notes
When you join a new event on Facebook, they update that calendar link instantly. However, Google Calendar will only recheck for changes approximately once every 24 hours, so don't stress if a new Facebook event isn't showing up immediately… it will soon.
Also, one last tip. I like to have a default notification for a 4-hour email prior to an event, so you can setup a default notification for the Facebook event calendar by hovering your mouse over the newly listed calendar, clicking on the down caret icon, and selecting Edit Notifications. Make your changes at the top where it lists Event Notifications.
Final last tip: Make sure, if you have an Android device, to go into settings of the Calendar app and enable the new calendar in your view. All set!