After a successful launch promotion (2000+ downloads of the novella), I wanted to talk more about book marketing. First and foremost, the version downloaded during the promotion had a special note before and after the story. The note was a personal note from me recommending a few different methods for the reader to reciprocate if they enjoyed the story. This included purchasing a copy, adding a review on Amazon or other online bookseller, and spreading the word to other fans. If the fans enjoyed the story, they will want to reciprocate, and the only way to get that message across is within the book itself.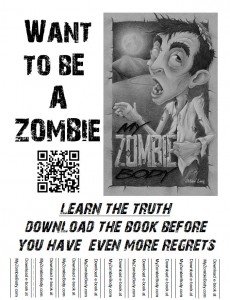 The next phase was what to do with those who arrived to the promotion page after-the-fact. Make sure you include a preview PDF to download in the first sentence on that page! That PDF should be a preview of the first section of your book (enough to hook them into reading more). Don't be stingy! If your book takes a little while to get started, give them enough content for them to want to read more and thus purchase a copy.
There are three main types of readers, in dramatically declining percentages. There are readers who will simply digest your book, and there are others who will want to interact. Finally, the smallest percentage are promoters: people who will announce your book to their world. The middle group will want to send you an email, and you will want to reply to them quickly. They need that interaction to take their reading experience from good to amazing, and this interaction can turn them into promoters. Promoters are incredibly valuable, as they will spread the word about your book to an audience. As an example, one person who contacted me will be promoting it at a Science Fiction convention. In Ireland. Awesome, right?
The key is providing these promoters with two things: a free copy to read that encourages them to reciprocate (if they bought a copy they don't feel like they owe you anything), and then some other marketing materials for them to use. In my case, I built a flyer that could be printed on any printer (no color!), even in toner saver mode, and posted onto a wall in an office, school, community center, etc. A classic pull-tab style, it allows others to take the web address with them. It also includes a QR Code for the few individuals who prefer to collect the address digitally.
TL;DR
Turn readers into marketers by providing them with free copies and marketing materials, and be accessible for emails, interviews, and promotional opportunities.