Unlocking Kickstarter Secrets: Crowdfunding Tips and Tricks
by Mario Lurig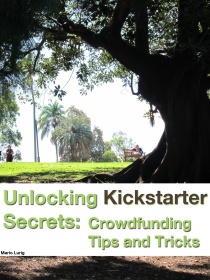 Unlocking Kickstarter Secrets is your guide to creating a successful Kickstarter or Indiegogo project. The e-book offers guidance, tips, and tricks for creating, marketing, and fulfilling your project goals.
Do you want to learn how to determine how much money to raise? What kinds of rewards attract backers? How to use pricing to your advantage? Learn these answers and more with this concise guide to crowdfunding.
About the Author
Mario Lurig has been a Kickstarter project backer since November of 2009 and successfully completed his first project in December of 2011, raising 1700% of his original goal. Mario combines his personal experience as both a backer and project creator with research in behavioural economics, pricing strategies, and marketing tactics to put together an invaluable resource for future project creators.
Unlocking Kickstarter Secrets is Mario's fifth book.
Table of Contents (condensed)
The Platform: Crowdfunding Websites

Kickstarter | IndieGoGo | Choosing Your Platform

Core Ideas for Any Project

Make it Personal | Humour Sells (Better Than Sex) | Share More, Hide Less | Know Your Audience (of One)
Video: Short, Well Produced, Informative |Make Sure You're Ready | How Much and How Long | A Note About Paying Yourself

Creating Rewards

Popular Reward Levels | Breakdown of a Reward's Costs | Be Sensitive to Market Price | Great Rewards Have Less Anchors
Reward Types

Good Feelings Rewards | Public Recognition Rewards | Digital Goods | Physical Goods | Unique Experience Rewards

Using Limited Rewards to Encourage Immediate Action | Branding Rewards: Pandering to an Audience
Not Listening to Backers | Bonuses and Stretch Goals

Marketing your Project

Search Engine Marketing | Day and Time of Launch | Buy Local |Keeping Project Details Updated | Friends and Family
Say Thank You Everywhere | Long-term Planning for Success | Paying for Advertising | To-Do List Before the Project Deadline

Success! Now What?

Turning Fans into Fanatics | The Backer Survey | Marketing Round 2 | Pay it Forward

Additional Resources
Download contains
PDF

and

ePub

file — $4.99 USD

Note: Payment will display NovelRank, which is the name of my Business PayPal account.

Or purchase on: